Search Tips

Search Basics
The search operates using the SQL condition LIKE.

For example, if you choose Town of Easton
for the municipality and Ben for the last name,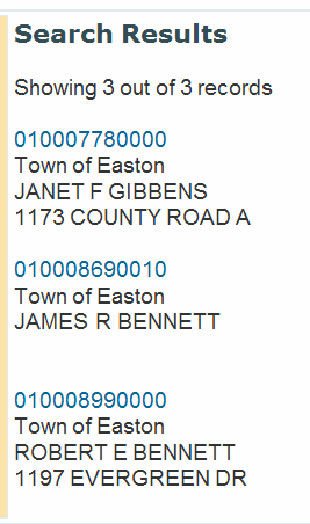 that search would return parcels with owners: GIBBENS and BENNETT.
Click on the parcel number to view the record.
Parcel or Pin or Computer Number Formatting
You may use a portion of the parcel, pin or computer number if you wish.
County

Explanation

Example

Adams

Use the 12 digit parcel number with no dashes, decimals or spaces.

010007780000

Chippewa

Use either the computer number (include decimal only if there is onel)

or the 19 digit parcel number (including the dashes)

035 217

23206-0434-63870009

Juneau

Use the parcel number

or use the computer number

291.1

290120219.1

Lincoln

Use either 18 digit the parcel number without decimals or dashes

or the 14 digit pin number without decimals or dashes

160831070020030200

01631070819987

Monroe

Use the 12 digit parcel number with no dashes, decimals or spaces.

185001150003

Marathon

Use either 18 digit the parcel number without decimals or dashes

or the 14 digit pin number without decimals or dashes

240526070050020000

04826070520992

Portage

Use the parcel id number.

018210734-16.02

Sawyer

Use the 12 digit legacy pin number

002940093303

Wood

Use the parcel number without dashes or spaces

1800317A